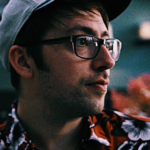 Andrew is a director and writer who grew up in the Black Country, roaming car boot sales searching for forgotten video nasties and staying up late to absorb cinema's weirdest offerings.

Since then he's gone on to create bold visuals for music videos and short films, earning himself a coveted UKMVA nomination and countless awards for his short form work. Only recently his short film PETER THE PENGUIN screened as part of the 2021 SLAMDANCE FILM FESTIVAL. Before that it won Best Short Film at the 2020 edition of GRIMMFEST, premiered at the 2020 FANTASIA FILM FESTIVAL, and has screened at the majority of the biggest genre film festivals in the UK and beyond.

In 2020 alone, Andrew has screened in four BAFTA Qualifying Film Festivals along with earning himself a place on the BFI NETWORK x BAFTA CREW. He's currently finishing up on a collection of dark comedy & horror short films that have been touring the festival circuit, one of which, THE FRONT DOOR also premiered at FRIGHTFEST.
Name a Horror character you relate to on a spiritual/personal level?
I love Vincent Price's character Edward Lionheart in Theatre of Blood. I'm no thespian Shakespeare actor but I love his evil streak of revenge on his worst critics. I often feel a similar sense of wickedness against gatekeepers in the film industry!
You've gotta go through some bad ideas to get to the good ones. Tell us one of your bad ideas. How do you get past the bad ones to find your spark?
It's hard to say really, I try not to be super critical on an idea initially as I think it needs room to grow. If I find the excitement disappears from an idea then it's probably not the right one, but I recycle ideas all the time.
Do you consider yourself part of a horror community?
I've been a horror fan all my life, raised on a treasure trove of video nasties and other brilliant horrors on VHS, found at car boot sales as a kid. I've only recently started becoming part of the community after a couple of my films got in to some major horror festivals recently. I'd love to meet more people in the community.
When you're building the world of your film, where do you look for inspiration?
I usually follow the mood and what atmosphere I'd like to try and portray. This often dictates the look but it's always to service the story and what I'm trying to say. I sometimes float about on pinterest too.
What would you do if you woke up inside of your film?
Stop the car and run as fast as I can!
Who would be on your ultimate horror villain squad?
The Blob, as it would consume everything. I'd then have the motorbike from 'I bought a Vampire Motorcycle' to ride around on and escape the Blob's reach.
Lightning round: Freddy or Jason? Stephen King or H.P. Lovecraft? Practical or CGI? Post Apocalypse or Pre Apocalypse? Post Apoc
Freddy, Stephen King, Practical ALL DAY, Post Apoc
What scares you, and does it inspire your storytelling?
Real life scares me, social anxieties feed a lot in to my films. I'm forever trying to inflict my fears on to everyone else.
And finally, Ghostface would like to know 'What's your favourite scary movie?'