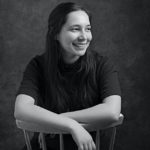 Cassiah grew up traveling between the UK, USA, and Canada with a mixed Indian and European heritage. While studying Drama and Theatre Arts at the University of Birmingham, Cassiah decided that she wanted to make the films she had imagined for so long in her head a reality; so she taught herself how to write screenplays, and quickly became hooked. She also made her very first film with a band of University friends, and got her lucky break, meeting 'Bend It Like Beckham' writer/director Gurinder Chadha OBE on a train from Edinburgh to London. Gurinder offered her a job on the spot, and Cassiah spent a year with Gurinder assisting on her theatre and film projects including 'Bend It Like Beckham The Musical' and 'Viceroy's House'. 
Cassiah's debut award nominated play 'Under My Thumb' toured London, Brighton and Edinburgh, eventually completing a five-star run at the Edinburgh Film Festival 2017. She continued to work on a number of commissions whilst pursuing her own directing projects, including her award-winning debut short film 'Polly' (2017); her second short 'Woman of the Night' (2018); and her third short 'Kindling' (2019). Her award-winning short film 'Catch A Butcher' was supported by the BFI Network and is currently in its festival circuit, screening at BAFTA-qualifying festivals across the UK. She is now in post-production on a BBC Studios Drama Productions short film 'The Pink Pill', due for completion summer 2022, and is developing her debut feature projects. She was also recently mentored by director Claire McCarthy. 
Alter Films
Catch a Butcher
Name a Horror character you relate to on a personal level?
Eli from Let the Right One In I really relate to. As a kid, we moved a lot, and I always felt like an outsider trying to fit in, just like Eli. Eli is also trying to tame a dark side of herself, and I think we all face that struggle of how to present ourselves to a society that doesn't always understand us or our needs. She's also a quiet thinker, an introvert, but fiercely loyal and determined, and I think I share a lot of those qualities.
You've gotta go through some bad ideas to get to the good ones. Tell us one of your bad ideas. How do you get past the bad ones to find your spark?
I don't know if you can ever have truly "bad" ideas, I think it's how you choose to communicate them… With Catch a Butcher, my original vision for the wash room scene was this bright, white-tiled, clinical room, but practical considerations forced us to change this. If we had gone with my original idea, in hindsight, I think the execution would have been pretty bad within the context of the film – this scene would have been too stylistic, too jarring, and not in keeping with the tone. So, I think it's less about going through bad ideas, but more so (and sometimes inadvertently) dodging them!
Do you consider yourself part of a horror community?
Absolutely, and I love that there are so many sub genres of horror that it makes it accessible to so many people. I would say that my favourite horror tends to lend itself to magical realism and supernatural thriller/horror, but with a mix of real human drama and tension in there. Though when I was younger, I definitely went through a gore-loving phase!
When you're building the world of your film, where do you look for inspiration?
I always begin with images in my head, so then I tend to look for film references but also image/texture references, which could be from art pieces, architecture, etc. I'll build a pinterest board of inspiration, which really helps to convey the tone and world that I am imagining.
What would you do if you woke up inside of your film?
Scream, probably. I hate the dark, and creepy buildings, and I'm also Anglo-Indian so I would definitely be a target of the white figure… Basically, I would be the first one to try and get out of there (though in that case, I'd probably also be the first one to be killed - !)
Who would be on your ultimate horror villain squad?
The Pale Man (Pans Labyrinth), Mother Suspiriorum, (Suspiria), Jack Torrance (The Shining), No Face (Spirited Away – and okay, I know it's not a horror film, but No Face was ultimately terrifying to me when I was a kid), Rose Armitage (Get Out)
Lightning round: Freddy or Jason? Stephen King or H.P. Lovecraft? Practical or CGI? Post Apocalypse or Pre Apocalypse?
Freddy, Stephen King, Practical, Post
How do you go about creating the props and sets for your film? How do you create objects that are relatable but unfamiliar?
I was really keen that everything we did in Catch a Butcher was in camera, so no green screen, no CGI, nothing – for me, this makes the world and characters feel so much more textured and present (and therefore, terrifying!). I worked with an exceptional production designer Lili Lea Abraham who really worked so tirelessly to create the sets and props – it wasn't a small order, especially with the limited budget we had. I know at one point her wonderful mother was sewing a tapestry day in and day out for us to help get it done! We also decided to light the entire film (except the wash room scene) with candlelight alone, so the props and lighting merged as one, and really helped to create the unsettling atmosphere – as well as a precarious lighting situation on set!
What scares you, and does it inspire your storytelling?
I get scared very easily, and mainly when I'm just lying in bed in the dark alone – I have a very overactive imagination, and have always scared myself with visions of creepy creatures since I was a kid! In terms of storytelling, what I've realized, is that the scariest thing for audiences is their own imagination; anticipation of what the horror is, and having to go through that building tension. This is expertly done in The Babadook for example, which is so tense throughout by not having any unnecessary jump scares. It also doesn't let you see the Babadook clearly for such a long time – rather, it shows shadows and shapes in the back of the frame, which our brain – as audiences - makes even scarier than they are.
And finally, Ghostface would like to know 'What's your favourite scary movie?'