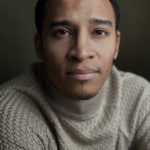 Conscian is a self-taught filmmaker with 12 years of experience writing, directing and producing short films, factual entertainment, TV drama and commercials. He directed the dystopian TV pilot, The Tower, which laid the foundation for his directorial horror debut and award-winning short film, Immure, which has played at many international film festivals, including LA Shorts Fest 2016, and won several awards. Most recently, Conscian wrote and directed the dark, psychological horror short, The Familiar Fingers of Culture, which won "Best Actress" at the British Horror Film Festival, and "Best of Fest" at That Film Festival — Berlin.
Name a Horror character you relate to on a spiritual/personal level?
Louis de Pointe du Lac (Interview with the Vampire).
You've gotta go through some bad ideas to get to the good ones. Tell us one of your bad ideas. How do you get past the bad ones to find your spark?
All my ideas are bad at the beginning. I work on them slowly until they're not so bad. Early on in the process, I would usually drop an idea if I can't make the ending work. I'm generally looking for an overwhelming sense of pathos or irony.
Do you consider yourself part of a horror community?
When you're building the world of your film, where do you look for inspiration?
What would you do if you woke up inside of your film?
I would move to a part of the world where the sun never sets… I hear Svalbard, Norway is excellent this time of year. I would have to contend with killer polar bears… but that would make a ludicrously implausible movie.
Who would be on your ultimate horror villain squad?
Pinhead, Dracula and Sil from Species.
Lightning round: Freddy or Jason? Stephen King or H.P. Lovecraft? Practical or CGI? Post Apocalypse or Pre Apocalypse?
Freddy, King, CGI, Pre Apocalypse
How do you go about creating the props and sets for your film? How do you create objects that are relatable but unfamiliar?
I buy them from shops and keep the receipts…
What scares you, and does it inspire your storytelling?
And finally, Ghostface would like to know 'What's your favourite scary movie?'