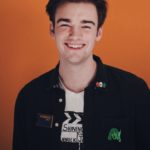 Elwood Quincy Walker is a horror writer, director and producer living in Los Angeles. He started filmmaking at five years old using only his legos & his dad's video camera. Then at age thirteen he became a signed commercial director making commercials professionally for Disney Parks, Yowie Candy, & other brands. Since then he has made several short films that have received accolades & played at film festivals around the world. Elwood recently interned at Blumhouse Productions for a semester & is currently in post production for his next short film.
Name a Horror character you relate to on a spiritual/personal level?
On a personal level I relate the most to Randy Meeks from Scream, which is one of my all time favorites. At my core I'm a super passionate & overly excited horror fan. I just genuinely love scary movies so much.
You've gotta go through some bad ideas to get to the good ones. Tell us one of your bad ideas. How do you get past the bad ones to find your spark?
The most important thing for me is coming up with an idea that I feel extremely passionate about, & it has to stay exciting for me. It has to keep me up day & night. I have to care & feel compelled enough to make it, & that is how I know I've found my spark.
Do you consider yourself part of a horror community?
Absolutely! My life revolves around all things spooky & scary so I'm pretty involved in the LA horror community. Outside of filmmaking I do photography & have been in a couple horror art shows where I've met a lot of my friends & colleagues.
When you're building the world of your film, where do you look for inspiration?
I look at the movies I love for inspiration & break down what it is that makes them so special to me. Whether it's the characters, production design, cinematography, score, etc.
What would you do if you woke up inside of your film?
Everything that happens in my film is a direct result/reaction to Norman's actions. So if I woke up inside my film, I would just not kiss the dead body.
Who would be on your ultimate horror villain squad?
Michael Myers, Sam, Pennywise, Audrey II, The Bride In Black, & Jennifer Check
Lightning round: Freddy or Jason? Stephen King or H.P. Lovecraft? Practical or CGI? Post Apocalypse or Pre Apocalypse?
Freddy. Stephen King. Practical all the way. Post Apocalypse.
How do you go about creating the props and sets for your film? How do you create objects that are relatable but unfamiliar?
I do production design for all of my films, which is always a huge part of my movies. I try to look for props & sets that have the aesthetic of my vision & visually create an atmosphere/tone from the second we see them. I also use these elements to add to the story through little details. For example on Kissed the vintage medical instruments are in pristine shining silver condition. But the lipstick Norman uses is a little grimy, messy, & towards the end of it's capacity. Which furthers the implication that she isn't his first, but rather one in a long strand of victims that have come before her.
And finally, Ghostface would like to know ​'What's your favourite scary movie?'
I have so many its hard to just pick one! The scary movie that probably had the biggest impact on me was the first one I watched, which was SAW at the tender age of five. I remember begging my parents to see it for months, & when I finally did....it deeply terrified & traumatized me. But today it has a very special place in my heart!